Procreate offers you the true creative power with its unlimited brush library.
And if you're seeking to add some depth in your design that gives it a realistic and appealing touch, you must try using texture brushes.
Yes, you heard it right!
Texture brushes for procreate makes your designs look appealing and offer them a unique element.
So, are you using any texture brush for creating awesome artworks in Procreate?
Well, I have a lot of texture brush options for digital artists and graphic designers who specifically use Procreate for their design work.
Come, let me suggest some key texture brushes for Procreate to up your design game, below!
Best Procreate Texture Brush Options 2021
I wanted to keep the list as diverse as I can so you'd have more texture brush options for Procreate. And I do hope that this texture brush list would help you pick the perfect option that can make your artwork appealing and flawless, too.
Feel free to select one or more texture brushes to tweak your creative expertise with all the amazing recommendations listed below: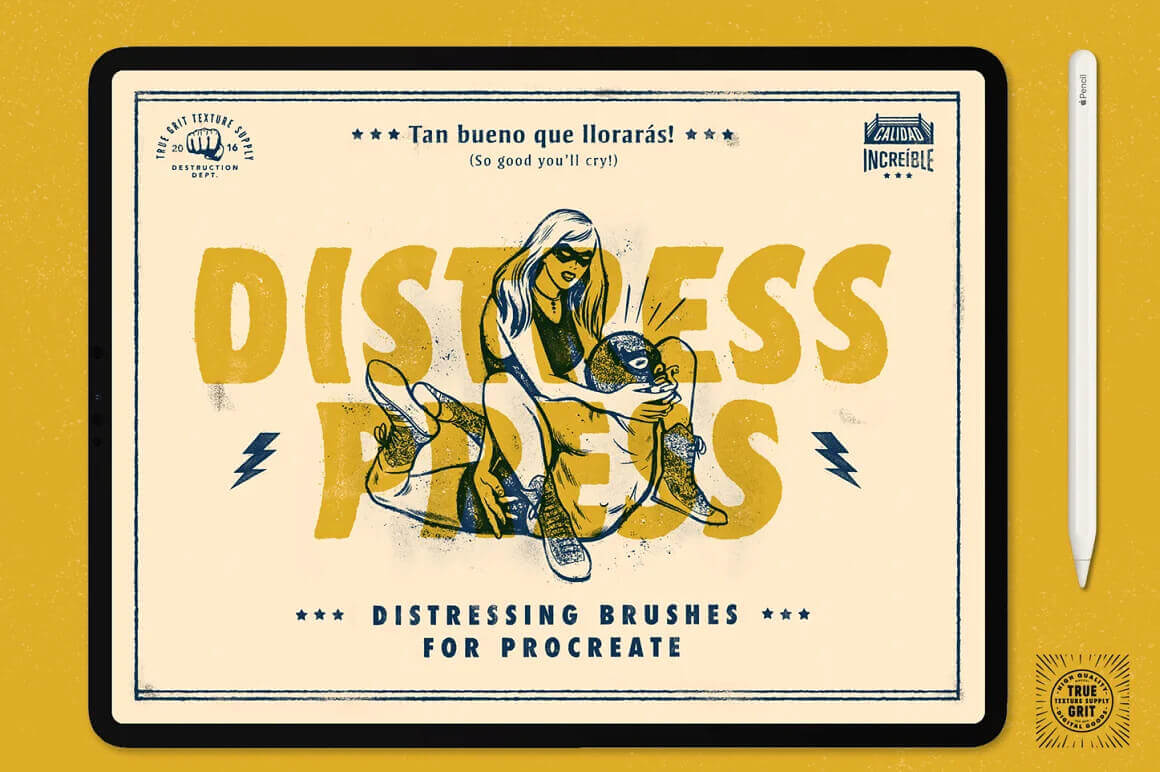 Price: $65
True Grit Texture Supply offers its Procreate Texture Brush Bundle that gives you access to a versatile range of texture options.
There are 5 different texture brush options that allow you to add a creative twist in your designs and give them a unique property of handmade artworks. From dots to stripes and uneven lines, you'll find a versatile range of texture brushes that are vital to give your artworks a right percentage of detailing that makes it unique and appealing.
Plus, you get 49 distressed halftone brushes in this pack along with 27 subtle texture brushes and various other texture brush options that give you the true power to unleash your creative thoughts on the screen.
I loved how they kept the texture brushes as authentic as the real source feels upon the first touch. And I'm sure you'll love this feature, too, upon using this texture brush bundle in your designs.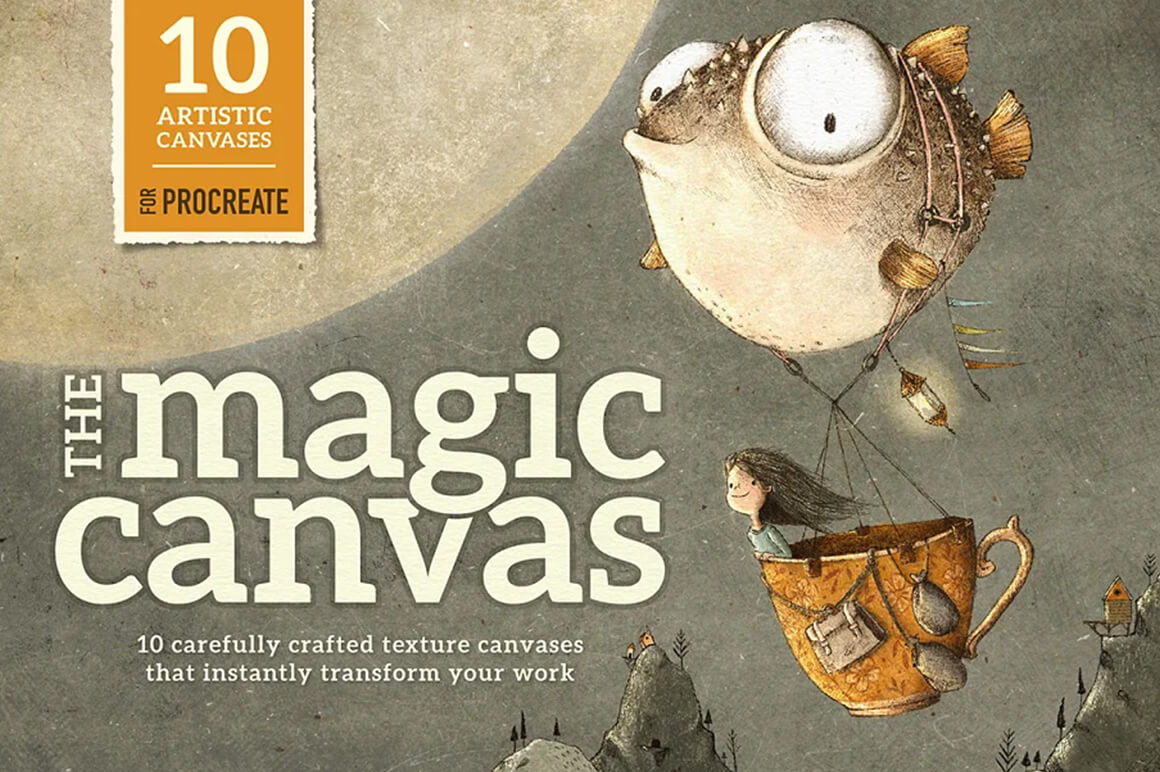 Price: $21
Here's another wonderful contribution to the creative fraternity by Lisa Glanz in the shape of Magic Canvas Procreate Texture Docs.
Lisa has tried her best to give you a texture brush bundle that can add a wow factor in your artworks. Her versatile range of textures make this selection a perfect option to add a realistic touch to your designs and give your characters a fresh feel, too.
From adding details to the backgrounds to decorate your canvas, there are unlimited possibilities that you get to avail with Magic Canvas Procreate Texture Docs.
So, don't limit yourself with the default texture brushes of Procreate and give this awesome bundle a try in order to make your characters pop out and present your imaginations in their truest form on the canvas.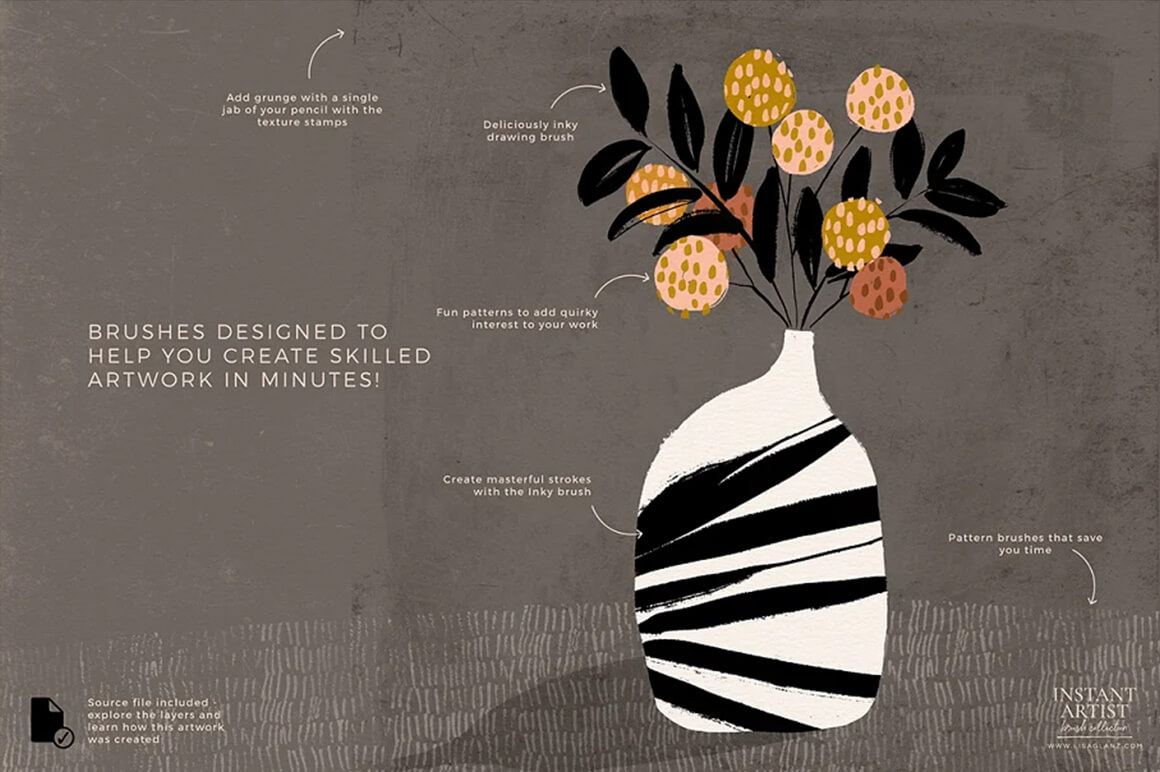 Price: $21
While creating something artistic, we often need to access different brushes!
What if you don't need to switch to different texture brushes and get all the options in one bundle?
Well, let me introduce Instant Artist Procreate Brushes, again, from Lisa Glanz!
The creator, known for introducing awesome Procreate brushes, has given a complete set of artistic options from initial sketches to final retouches. This bundle ensures a fine artistic creation with its multiple texture brush options.
From drawing to patterns, and even stamps, you'll get a full range of brushes for treating your artwork in the best way. Plus, you get to instill a real life feel in your artworks, too, by using Instant Artist Procreate Brushes. So, consider this wonder from Lisa Glanz and give your artworks a wow factor.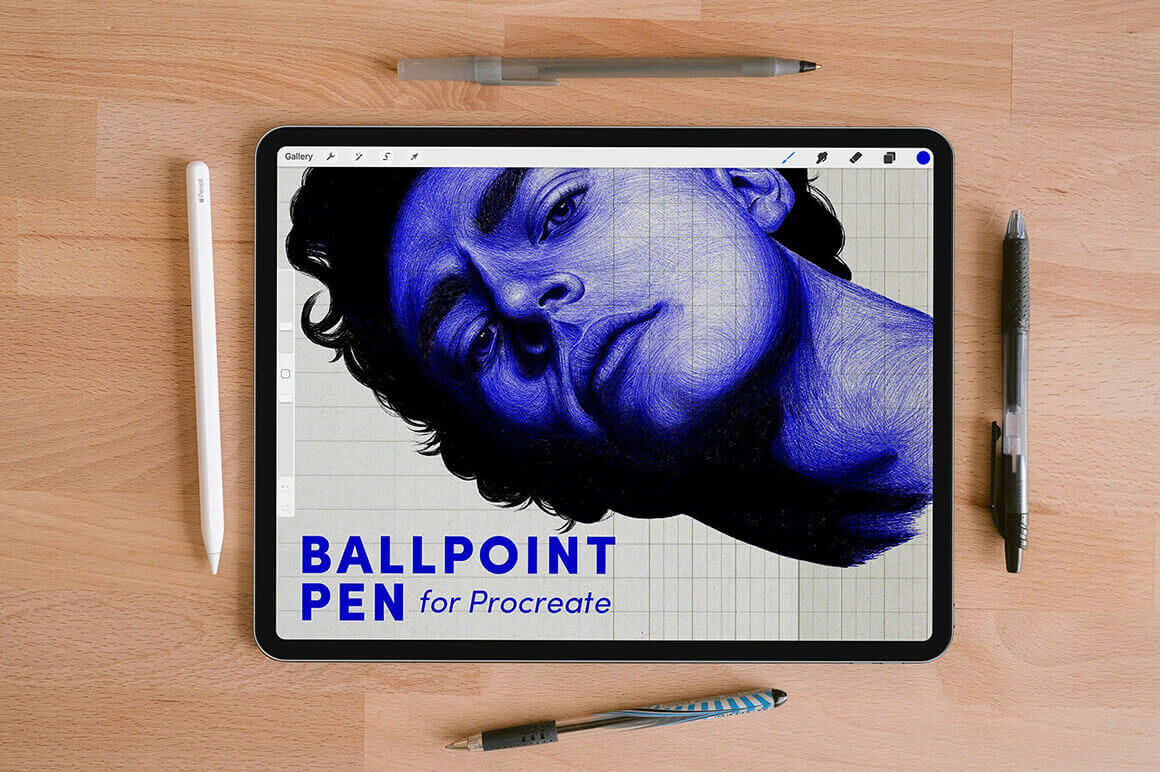 Price: FREE
Scribbling is another famous approach that artists use especially with the ballpoint tip!
So, I'd suggest you to consider using Ballpoint Pen for Procreate if you're into scribbling, too. When used at a smaller pen tip, this texture pen gives you a realistic ballpoint effect.
And you get to create awesome sketches and objects just like you'd draw with your bare hands using a real pen. So, do consider this procreate brush if you're working on a portrait or sketch and give your project a flawless, realistic touch just like the real pen tip does.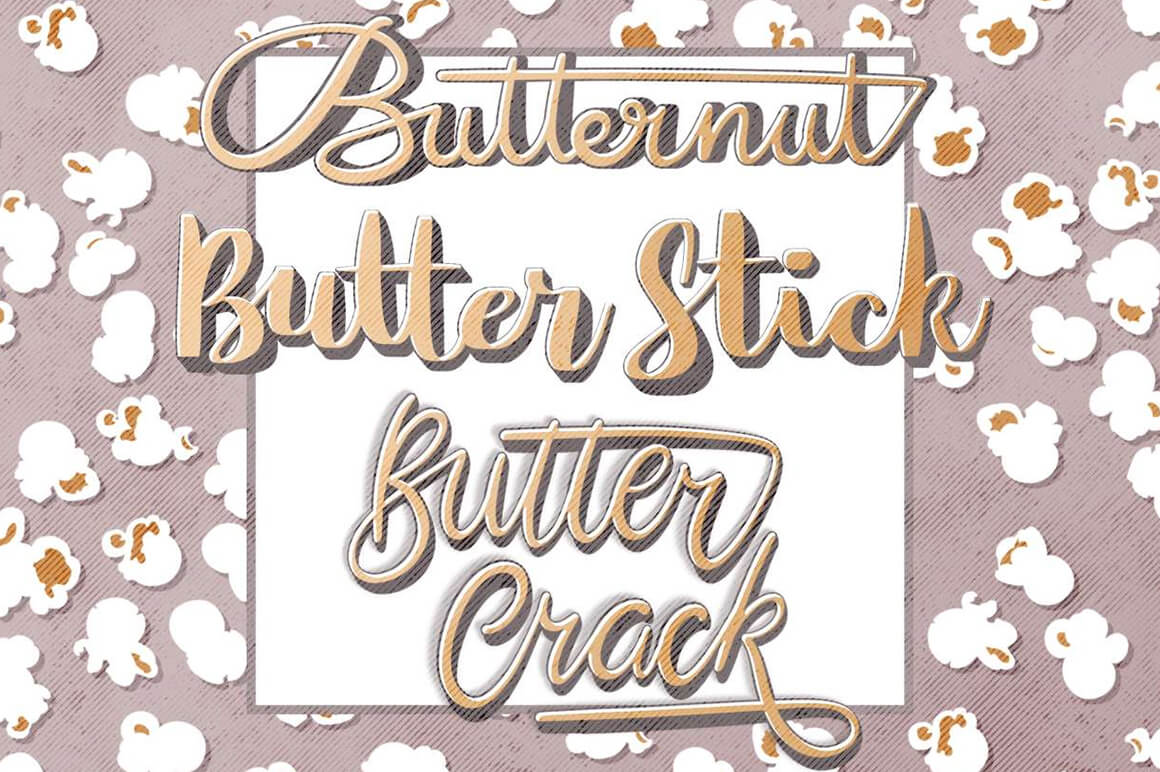 Price: Free
Are you into graffiti effects?
Well, you can achieve this by using the Lettering Brush Set by artist Abbie Nurse.
You can use this texture brush in Procreate if you've planned to give your artwork's text a prominent outline. And you can make your creative idea clickable to your viewer instantly with such an unusual approach using Lettering Brush Set.
Plus, you get to customize the brush as your project demands to. Because the creator has kept it fully customizable so the artists can give their creativity the desired turn and twist. So, do consider this texture brush if you want to give your artwork a distinct feel upon completion.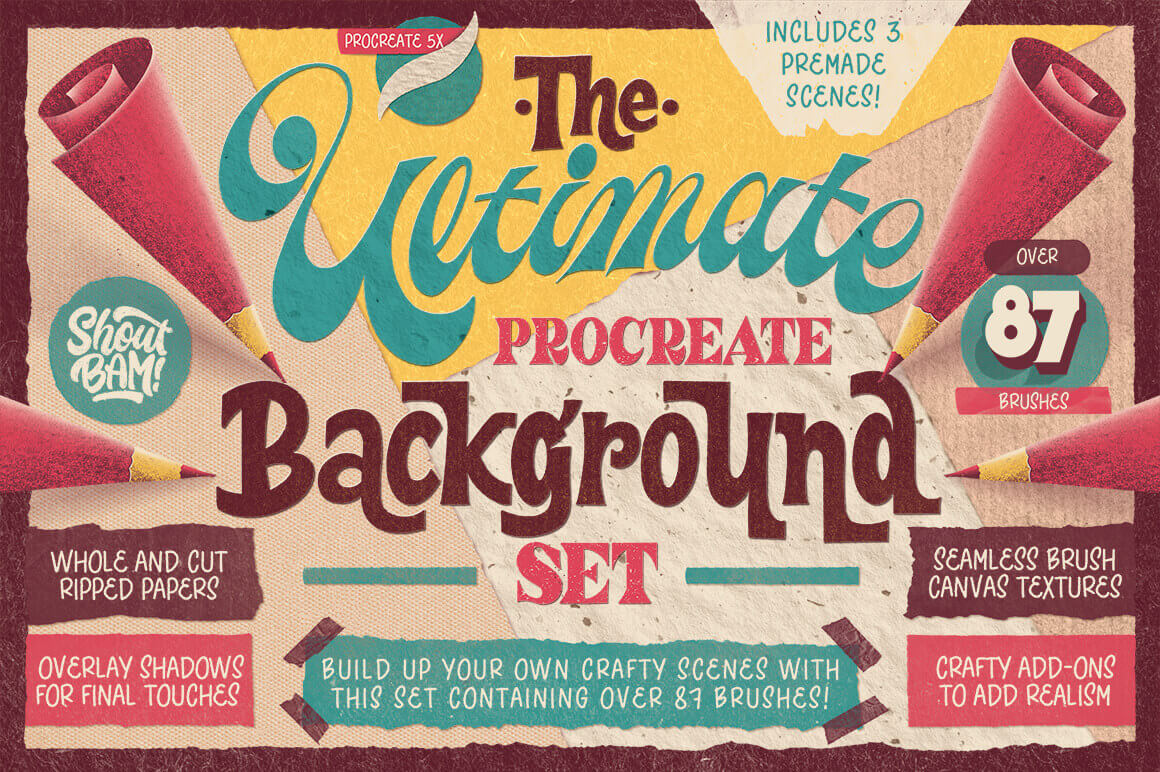 Price: $21
Our creative industry is full of geniuses and user Shoutbam is the proof with their The Ultimate Procreate Background Set.
The reason for adding this texture brush in my list is sometimes we want to give more weightage to the background of a design. And this texture brush has everything that you'd need in achieving this goal. In simple words, this texture brush can give your designs a realistic feel with routine life objects that are a part of our environment but we rarely notice them.
Included in this bundle, you get 23 seamless canvas brushes along with 36 additional ripped paper stamps. And the stamps are another great inclusion to give your artwork the desired treatment with minor details that makes your artwork look awesome and realistic.
In short, this procreate texture brush is an all-rounder when it comes to creating awesome backgrounds with appealing elements.
Price: $18
Do you want to give your characters a fantastic touch and make them as close as real?
I recommend you to use Texture Brushes for Procreate designed by Bocadebra Shop that comes with a versatile range of texture brushes.
It allows you to work on every little detail from the hairs to eyebrows and more so you can achieve imaginative goals when drawing on the screen.
Plus, you can get multiple shades by using this texture brush bundle and give your characters a lively feel, too. Just install it in Procreate and play as you feel right for understanding its true potential.
You can have fantastic results with different sizes to make both foreground and background appealing and flawless using this texture brush bundle.
Price: $18
If you prefer to display nature in your artworks, Frankentoon Store has the right texture brush option for you!
Packed with versatile 99 brushes, you can give your artworks the realistic touch of wildlife (especially if you want to add night time).
From having leaf stamps to flames and even water splashes, you'll get a multitude of texture brushes in this bundle that further add a wow effect in your artworks.
The creators have designed this brush set especially for those artists who prefer to show the tiniest detail in the night view of wildlife. And it's best suited for book covers and gaming interfaces, too, along with general digital artwork.
So, download it and play around with various texture options to see how you can give your artworks a fresh, realistic feel with this procreate texture brush option.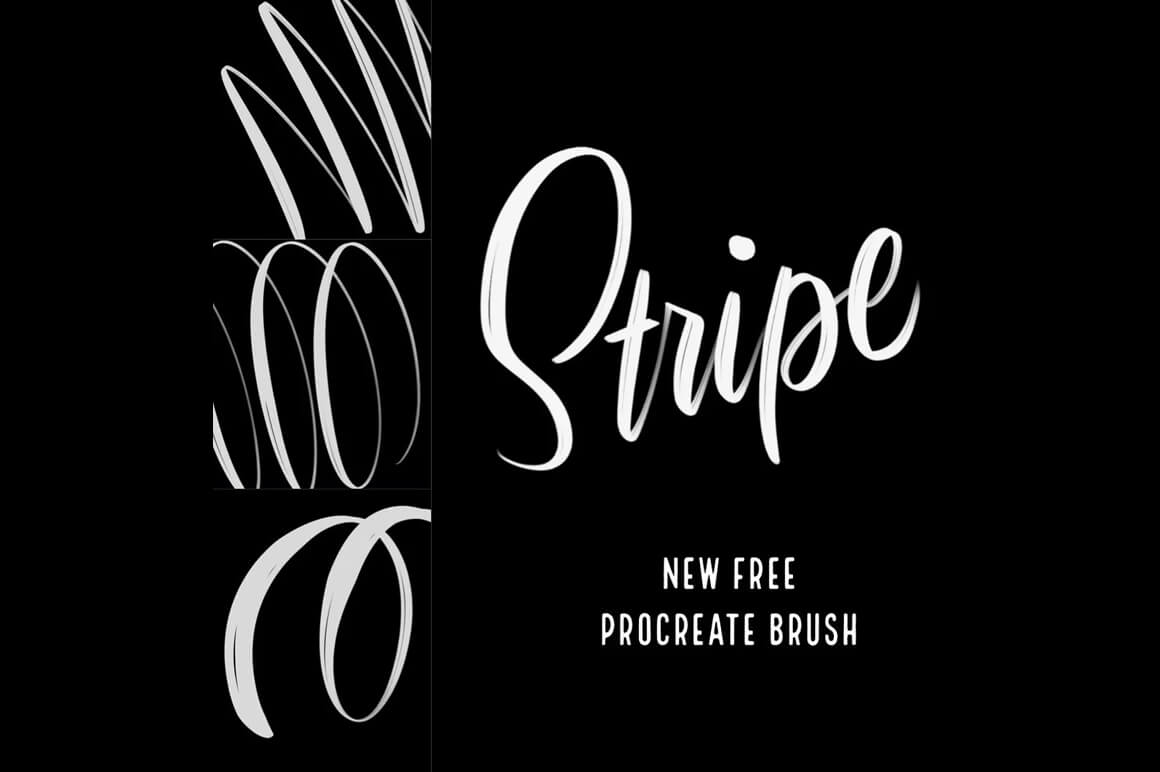 Price: FREE
Hand lettering can invoke the right feeling to any artwork when done right!
If you intend to use striped effects in your designs, you must try Stripe Free Procreate Brush that gives you full creative power to make your designs unique as well as appealing to the human eye.
Artist Kelly Sikkema has done justice to this texture brush with the perfect amount of cursive effect that allows you to personalize this brush as needed.
Plus, you use different colors and maintain the same awesomeness in your artwork using this texture brush, too. Install it in the Procreate and start giving your artwork the desired feel.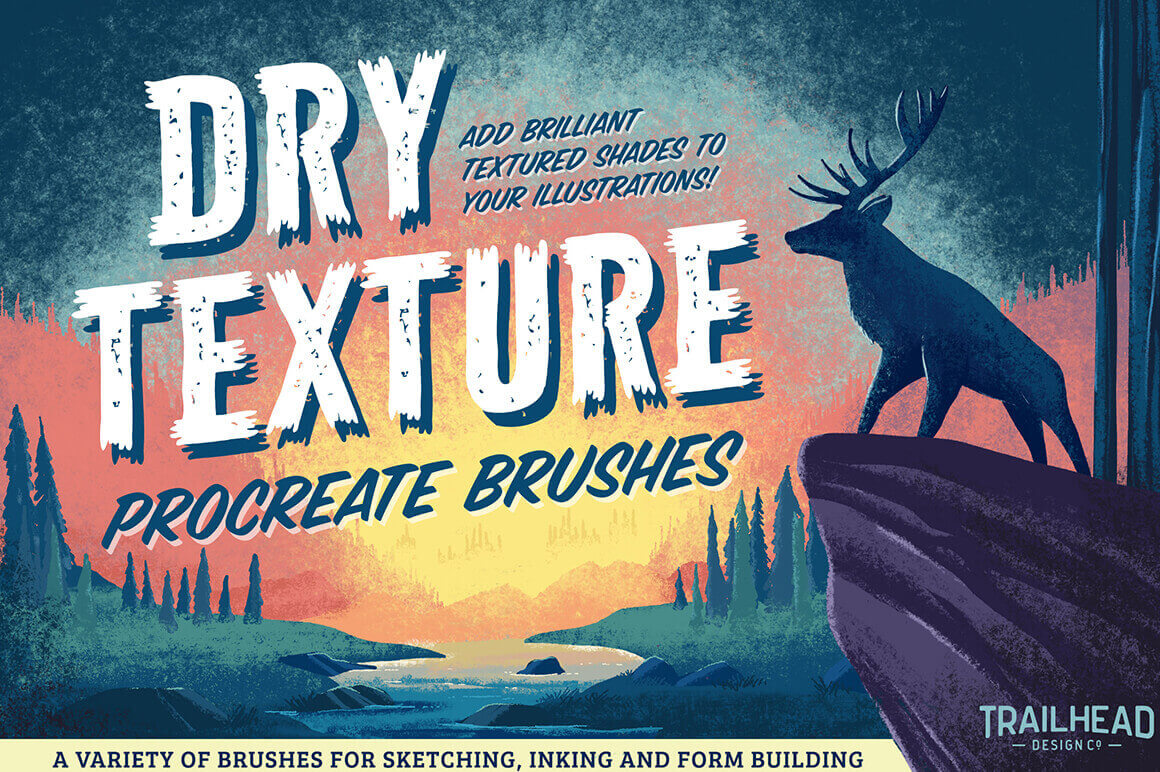 Price: $18
If your plans are to revive the vintage era in your designs, Trailhead Design Co. has the right option for you in the shape of Dry Texture Brushes for Procreate.
This texture brush allows you to achieve a fantastic, nostalgic result with a different variety of brushes packed in it. You can give your imaginations the right meaning on the screen using Dry Texture Brushes for Procreate and avail more than 30 custom texture brushes included in the bundle.
Whether you work on a sunset scene, design book cover for children or have a 50s inspired advert design in your artwork, this texture brush bundle helps you achieve the desired results.
In other words, you can create beautiful vintage artworks using this texture brush bundle and work on visible as well as unseen, small details, too. So, download it, play around with this beautiful texture brush bundle and explore different creative possibilities.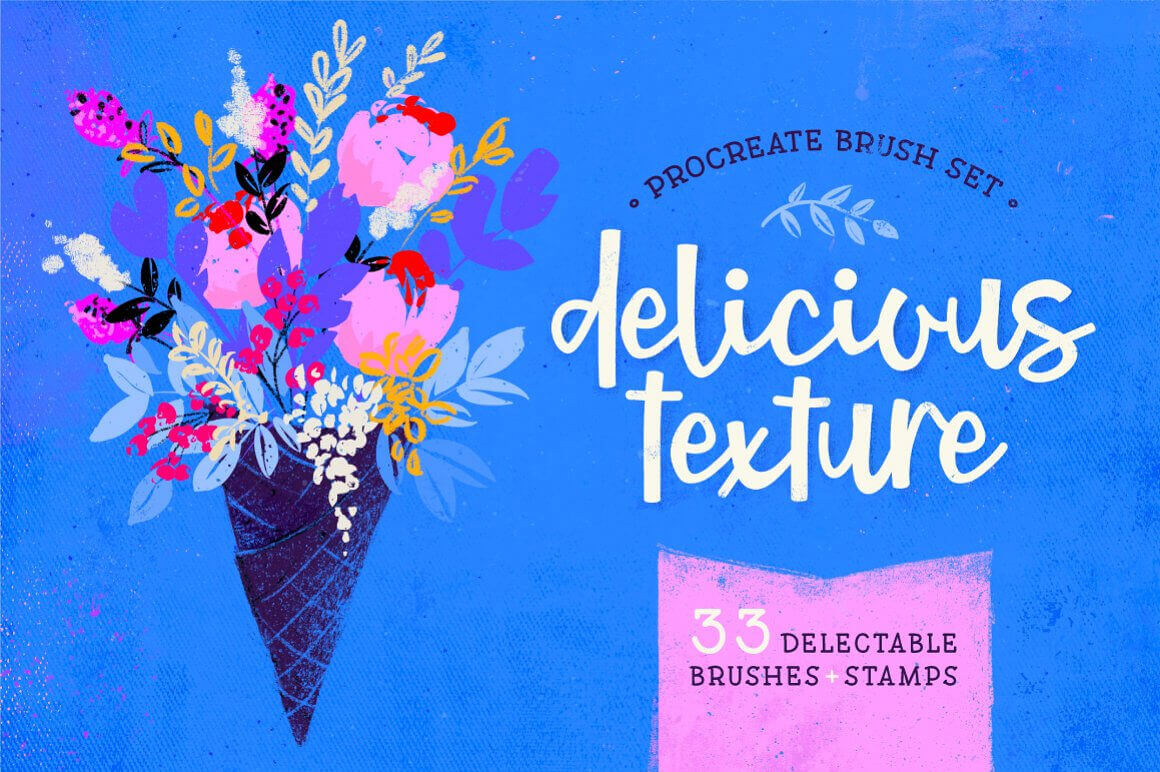 Price: $17
Here's another wonderful contribution by texture brush expert, Lisa Glanz in the shape of her Delicious Texture Procreate Brushes collection!
This texture brush bundle is intended to add a decorative effect in your artworks along with a pencil style touch, too. There are 6 different brushes all designed to serve a specific purpose that makes your creative work flawless and fantastic to the human eye.
Plus, you get to have various texture stamp brushes that can add a fantastic feel to your artwork's backgrounds. And the versatile pencil brush inclusion makes this bundle complete for any illustrator or digital artist who wants to keep the artwork close to reality and hand drawn effects.
I personally liked the element of realism in each brush stroke that makes the design further appealing to the eyes. And that's the reason for suggesting this texture brush bundle, too!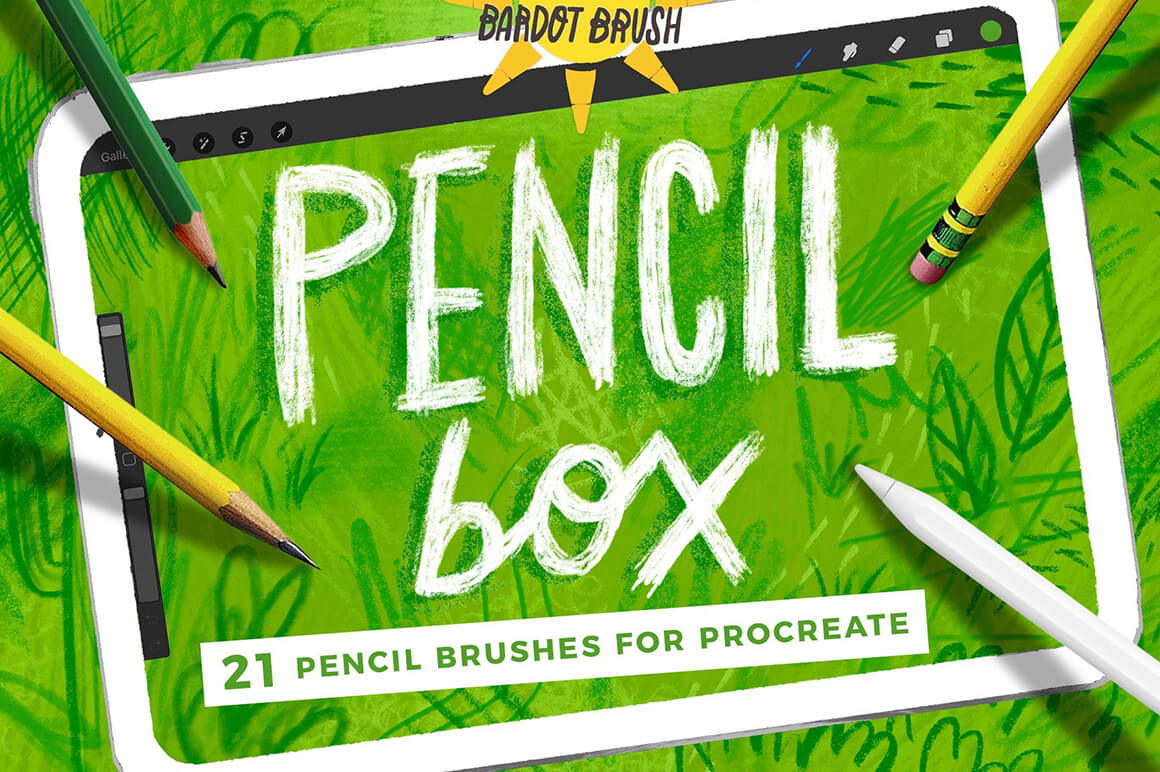 Price: $16
While searching for the best procreate texture brushes, I stumbled upon Bardot Brush's Pencil Box for Procreate!
What I liked about this bundle is that it comes with the very fine pencil strokes that offer your artwork such a realistic effect.
Plus, you'll get to have more than 20 pencil brushes that come in handy for creating hand drawn artworks. Create clouds, leaves, and even give depth to the lake with thinnest pencil strokes. So, do consider using Pencil Box for Procreate and add a wow factor in your designs with this wonderful texture brush option.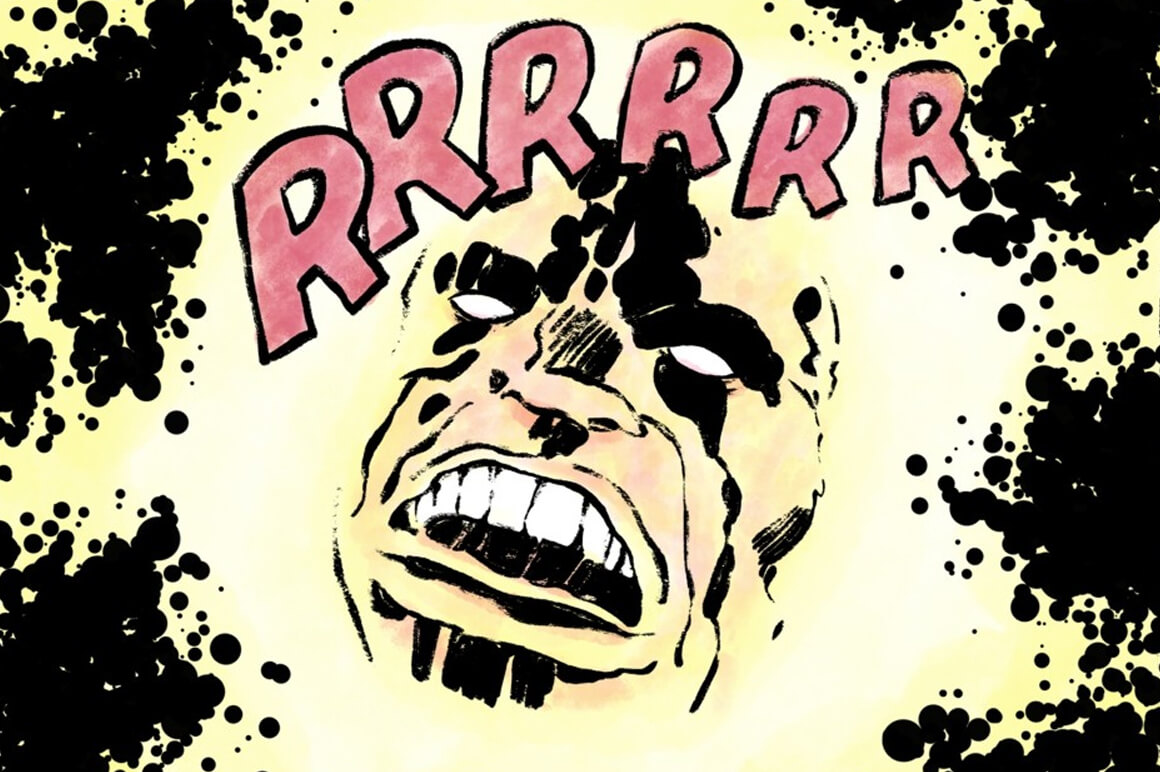 Price: FREE
I found this Comic Ink Brush Set for Procreate and instantly fell for its animated strokes which I'd like to recommend to you all!
There are 20 different texture brushes that allow you to create animated objects in the background of your artwork. The inking strokes add a surreal effect in your artworks especially if your design deals with children.
Plus, it's a nice option for creating postcard effects having vintage vibes. And you get to adjust the brush's size to achieve your creative goals. Feel free to use this texture brush in your artworks and be different from other illustrators.
Price: $15
Here's another wonderful creation by Trailhead Design Co. that I couldn't resist to add in this list.
The reason for suggesting Ultimate Brush Toolbox – Ink Brushes is its versatile texture brush options that offer your artwork a perfect look. Not just that, you get to fill up negative spaces in the background with the right texture effects, too.
Apart from that, the versatile strokes like ballpoint, monoline, and dried tip are what caught my attention while testing it on Procreate. So, I highly recommend using Ultimate Brush Toolbox -Ink Brushes in case you're looking for a versatile texture brush option.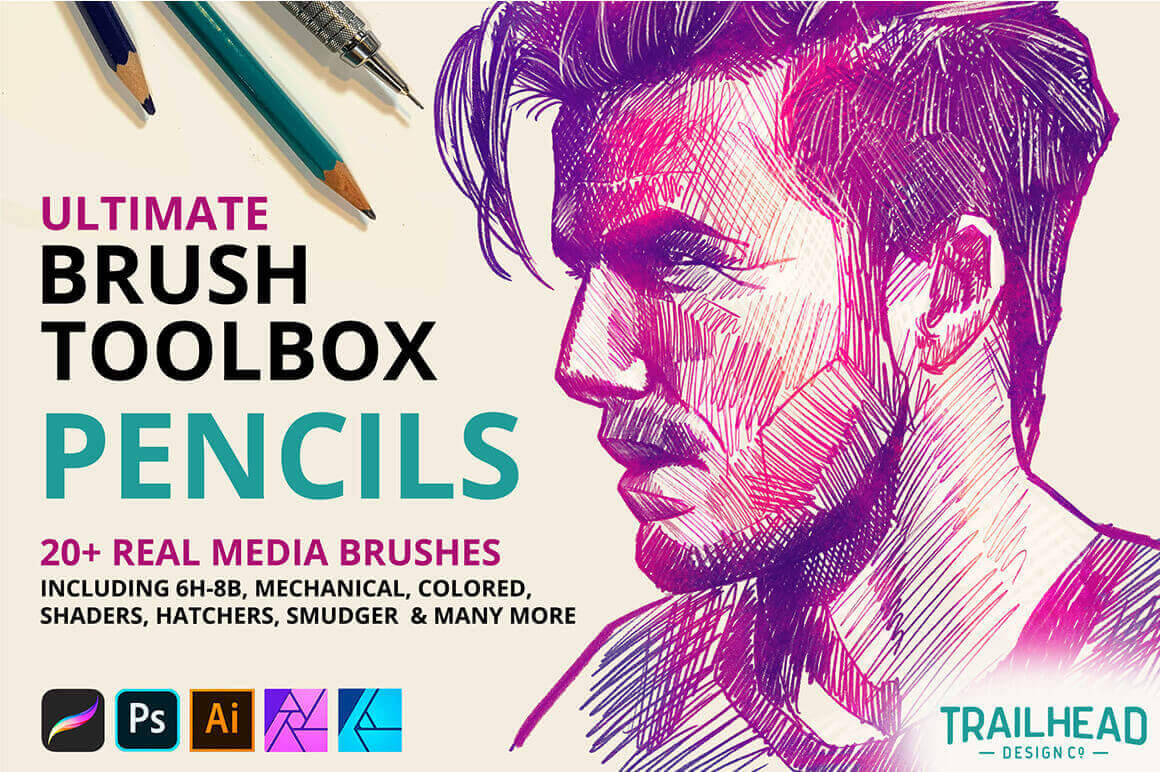 Price: $15
Here's one final recommendation from Trailhead Design Co. in the shape of Ultimate Brush Toolbox – Pencils!
It's one of the best texture brushes for Procreate that one can have especially when you want to use realistic pencil strokes in your artworks.
Plus, you get 12 different texture brushes along with a versatile range of pencil strokes that enable you to work on such intricate details that may not be visible from a length but prove you a perfectionist upon close examination of the artwork.
Price: $14
And this one's for those who prefer to have smokey effects in their artworks!
Procreate Ink Brushes by MiksKS is a wonderful collection to have especially if your artwork's base ideal involves inks and smoke.
I personally found each texture brush very useful for creating versatile background effects. Yes, there are 12 ink washes brushes and 15 sketching ink brushes that allow you to create a versatile range of texture effects.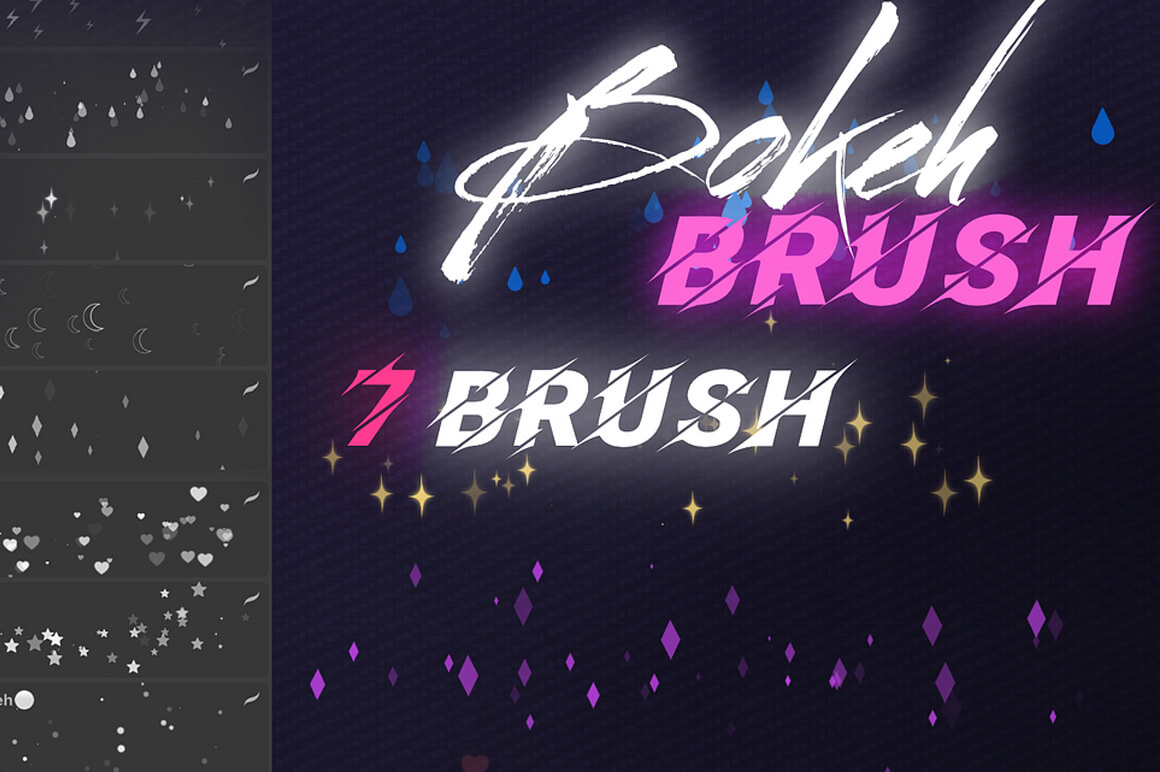 Price: FREE
Are you seeking a twinkly, decorative effect to add in your design's background?
I'd suggest you consider using Anime Bokeh Brushes!
The primary reason for recommending this texture brush is that it includes a versatile range of decorative elements that give your artwork a certain, appealing feel. Plus, you can pick the right texture from a versatile group of brushes, too, while working on your design work.
Price: $12
Are you into realistic digital portraits and sketches?
Well, I suggest you check out Drawing Box – Procreate Brushes by Sadie Lew!
It comes with various brush strokes that you can use when working on minor hair details of your characters.
I really liked the 30 different texture brushes that are included in this bundle and I'd suggest you try working with each of them before using them on the final design project for deciding the correct application of each brush.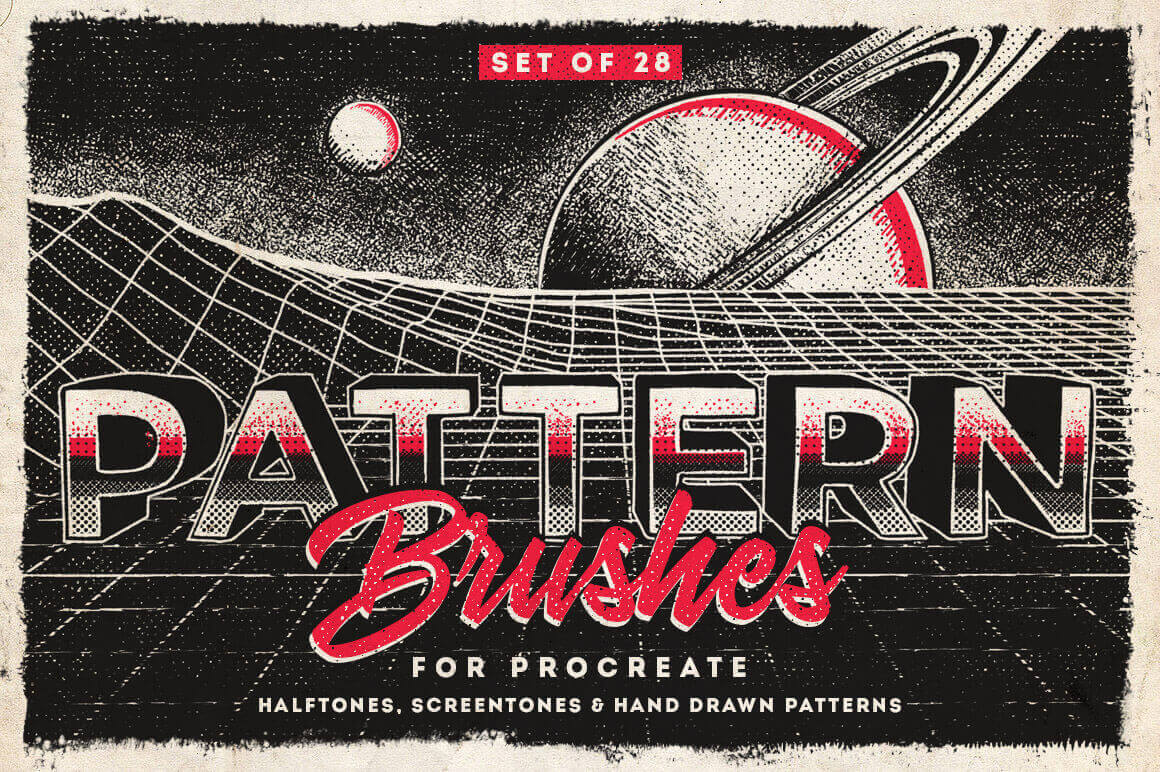 Price: $9
MiksKS also contributed this Procreate Pattern Brushes bundle that you should consider for your artworks, too!
By using this texture brush, you can give your artwork's background a scientific feel with the vertical and horizontal lines.
This bundle is best for showing depth of your design with the use of line along with various halftone and 2 versatile texture brushes. I became a fan of this bundle after testing it on a few of my designs which is why I added this in the list.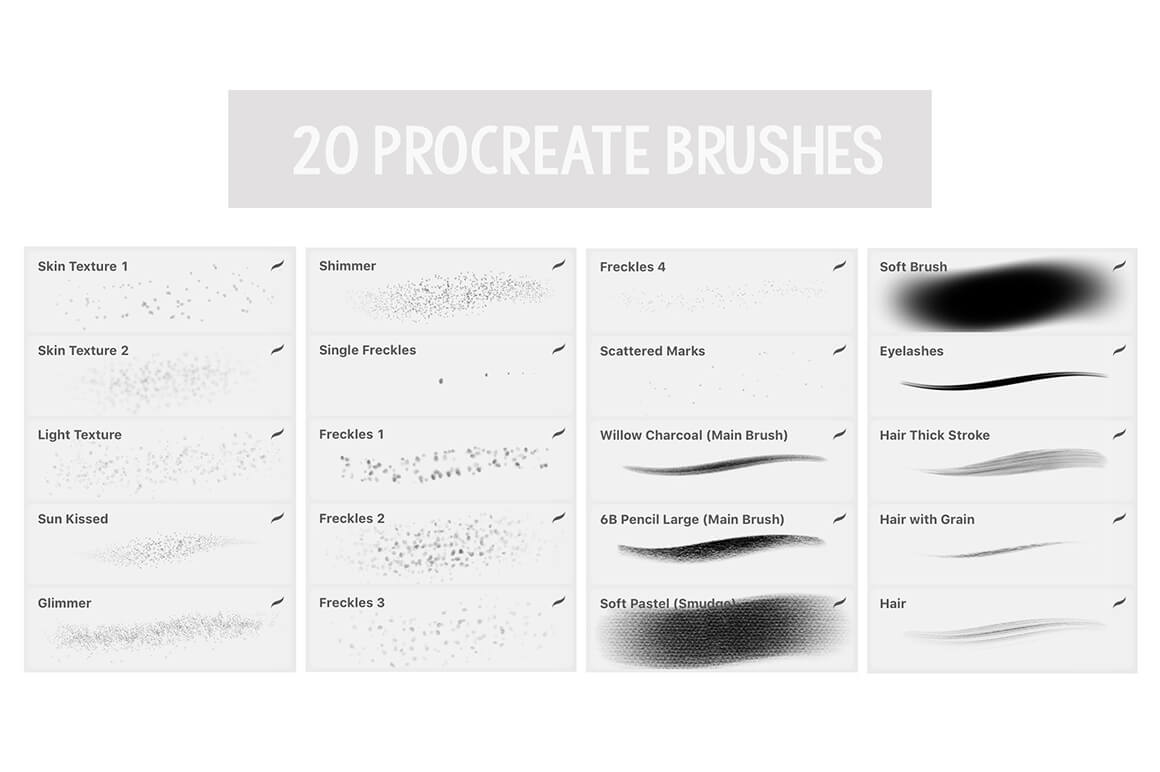 Price: $8
While seeking some cool oil paint like texture brushes, I stumbled upon artist Gabrielle's Procreate Portrait Brushes!
The reason for recommending this brush for Procreate is its awesome stroke quality that looks as real as one would make with the hand.
So, if any of you is looking to work on a portrait project, this is the option to go with and achieve such beautiful results as you imagined in your mind.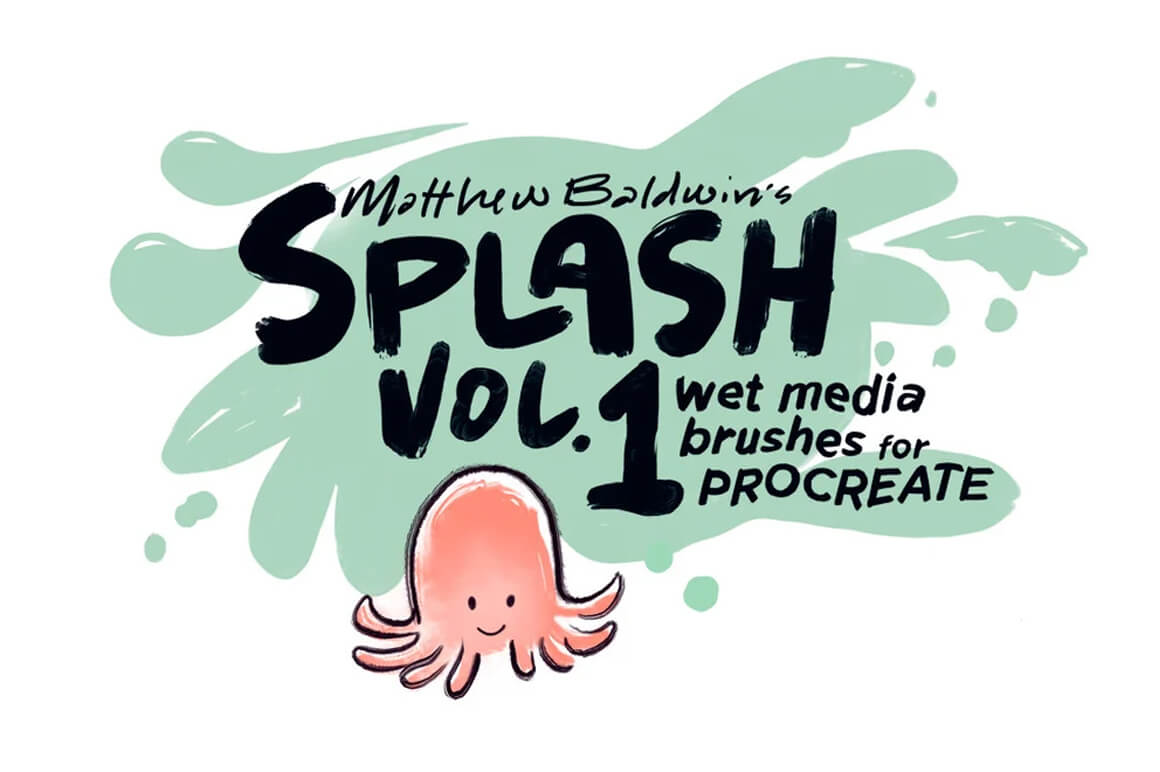 Price: FREE
And this is the final recommendation in the texture brush list for Procreate users!
If your design work involves having splashes and watery effects in the background, consider using Wet Media Brushes for Procreate by Matthew Baldwin.
The bundle comes with 48 versatile brushes that you can incorporate in your artwork and give it the true aquatic feel.
End Note
So, this was a little texture brush list that I wanted to share with all the digital artists and illustrators.
I hope this would help you in picking the right texture brush that goes with your project's core designing needs. There are plenty of suggestions that I included in the list but I personally prefer to use The Forest Tales Brush Collection and Ultimate Brush Toolbox – Ink Brushes due to their finest stroke quality.
Feel free to pick one or as many as you want and keep creating the magic with your artistic skills. Adios!